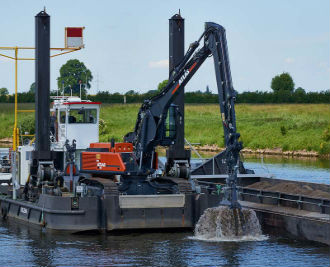 TRACMEC FOR THE MATERIAL HANDLING AND RECYCLING INDUSTRY
The material handling industry is also undergoing changes. Whether it is moving materials in a port or inside a boat or any other construction site, it is necessary to use increasingly high-performance machines in order to respect the timelines.

---
Taking the most out of the machines means more actual working time available and no downtime. This is made possible by robust and reliable machines and components, supplied by strategic and versatile partners. Thanks to its know-how in the design and production of expandable and fixed crawler undercarriages, TracMec is able to help the most demanding manufacturers in the production of crawler machines that can meet the challenges of today and tomorrow.

UNDERCARRIAGES FOR MATERIAL HANDLING AND RECYCLING