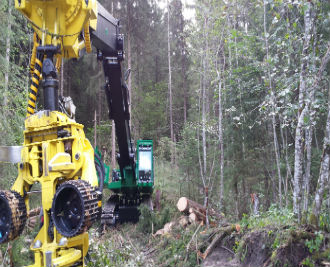 TRACMEC FOR THE FORESTRY INDUSTRY
Whatever your job, but working in the forest is difficult. You are there alone and sometimes it is impossible to get help from the outside. The producers of this type of machines know these heavy challenges well. The solution is to rely on your machine as the only means to do your job and return home safely. This means that, the machine you use must be reliable, simple, easy to maintain and robust.

---
Moreover, in a growing number of fores sites, the road transport conditions are becoming increasingly restrictive, so transporting a machine may not be easy. The use of an extendable undercarriage it is the optimal solution. TracMec helps machine builders to overcome these challenges and make forestry machinery easier to use and more reliable every day.

UNDERCARRIAGES FOR THE FORESTRY INDUSTRY